Post by lionofgod on Mar 18, 2021 20:04:13 GMT -6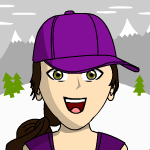 Also, have you ever did a study of the "Angel of the LORD"? Who is He? He speaks as though He is God and even accepts worship. People are even afraid they will die because they have seen God (I think that's Samson's parents). But yet we are also told "No one has ever seen God" (John 1:18) but John also goes on to say, "The only God, who is at the Father's side, He has made Him known."
Another thing I have found interesting is that how sometimes in the OT when the Word of the LORD appears to people it seems as though a physical person is there. (Genesis 15:4-7 for example) Then John tells us that the Word became flesh.
You have to look to the original Greek and Hebrew, the word it has that is translated as Begotten, refers to a shaking out. It is a manner of speaking from the old times, but helps to give clarity. I don't have my Greek and Hebrew "cheat sheet" handy or I'd give you the word to look up. But it should be an easy find in a search. I only learned it because one of my pastors and friends in life was a fluent speaker and reader of Both and didn't even carry an english version bible. LOL Small blessings along the road that helped later.

As to the "Angel of the Lord", I'd need a passage to go back and see. several angels are mentioned in the bible, Gabriel for one. But all are angels of the Lord. so I'd have to reread what ever passage you specifically refer to to give an informed answer. It is true that none have seen the face of the Lord. We cannot conceive or comprehend God, he may not even have a "face' as we understand the meaning of the word, he may be incorporeal and only appear as we can grasp. That is one of the few things in the bible that I call "God's knowledge" and is known only to him until we shed our flesh form. John is describing Jesus. and I'd have to read the entire scripture to be sure, but If I am recalling the correct one, the one made known is the Holy Spirit. For Jesus whom is on Gods right hand side in heaven gave us the Spirit when he ascended back to the Father. ie- made him known to us. Great catch on the final part! the "Word" is Jesus! He is referred to as that many times in the OT. Also the word Lord is used mostly in describing Jesus, for the translators and indeed the people of the time had a hard time understanding The Father/Son equality relationship thing, so they would use god most times except when talking about Jesus and the Father, then they would use Lord and God, so as not to confuse. Nice observation!