Post by disciple4life on Apr 13, 2018 1:10:13 GMT -6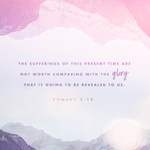 Also, a 33 AD crucifixion means that Jesus MISSED THE JUBILEE by 2 years. Are you kidding me? That just doesn't make sense. However, Jesus' ministry from 26/27 to 30 means that He could have read the scroll in Isaiah proclaiming the year of the Lord's favor IN the year of jubilee. Now THAT sounds exactly like something our God would do. Of course God can do whatever He wants, but it seems like sending the Messiah in the fullness of time, in the year of jubilee, makes the most sense.
But a crucifixion in 30 AD means we have to throw out the traditional understanding of Daniel's 70 weeks. I'm working on a post for this which I will share soon.
Hello witness1 , and fellow watchmen family, ;-)
You have some really excellent points. ;-) I have to say I'm very interested in the whole Jubilee year thing - I'm convinced that these are very very significant to God.
***Disclaimer - This is an otter - trying to agree, and share the places where we /and others are interested in Jubillee years, - not trying to be combative, and trying to give another perspective. ;-)
I've read some and studied some and even watched teachings of several Messianic rabbis, and the consensus - is that Jewish [Non-messianic] rabbis and Messianic rabbis, and end times 'experts' and historians do not know when the Jubilee years were. Multiple calendars in use, Pharisees, and Essenes / Civil and Religious and then this is compounded by the fact that calendar systems were changed, and the Jews did not keep the jubilee that God commanded, and were punished for that.
No record of Jubilees being kept for over 2000 years.
In all respect, I would strongly disagree with the notion that God "likes" or even "generally uses nice round numbers", - just taking into account the number of 7, number 12, 33, and of course the very significant numbers of 1260 days, and 1290 days of Daniel, which in themselves are 3 1/2 prophetic years, [1290 is with the lunar leap month added].
I totally agree with your assessment that Catholic/ Traditional 33AD Crucifixion is off for many reasons - but one of the biggest is that it makes Jesus too old.
Historians can pinpoint the Census when Cyreneas was Governor to 4/3 BC. This also corresponds to an amazing display of the Revelation 12 sign in incredible precision -- Sign of the Son of many in the Heavens. *** Remember how prophecies can and often have dual fulfillment. Gog of Magog being one of the most classic. Daniels prophecy being perhaps the most stunning example.
***There is a brilliant article - that I really believe you would appreciate - as well as so many other watchmen who are more knowledgeable than I on astronomy, and Daniel's prophecy.
Your statement here is spot on. I think you knocked it out of the park. "But a crucifixion in 30 AD means we have to throw out the traditional understanding of Daniel's 70 weeks." I would simply add that this is even more true regarding the traditional, Catholic-based 33 AD/Friday crucifixion myth.
As you well know, witness1 , and others, there is a tremendous renewed interest - and it's growing - regarding Daniel's prophecy regarding the Annointed one, and if/whether part of the passage refers to the Messiah, and whether the traditional understanding/ interpretation refers to the AC and the Abominatin of Desolation in the middle of the week.
There are growing numbers of Bible scholars and end times teachers and watchmen who are convinced that this is indeed, a prophecy with a triple, [or even multiple fulfillments

hmm.] Messiah was cut off- after 3 1/2 years of ministry hmmm. half of the 7 years. and literally cut off in the middle of the week.
This lack of understanding/ centuries of Catholic anti-Semitism totally missed the significance of Nisan 10, ***This was the day this year, 2018 - that the Jews chose to do the Pesach /Passover re-enactment sacrifice of the lamb on the Temple mount, WOW - and this was the day that the Passover lamb was selected and presented for inspection.
Check this --- During the crucifixion -there was the 3 hrs of darkness - absolutely not a normal solar or lunar eclipse - the normal sacrifices in the temple were made to cease . hmmm. It fits perfectly. Christ selected and publicly presented on Sunday, Nisan 10, cut off in the middle of the week on Wednesday.
Attached is the article. witness1 and venge , and all who are fascinated by the Jubilee years will appreciate this, as well as those who study astronomy. **Particularly the section "An Amazing Corroboration"
Resurrection Bible Prophecy 3 Days 3 nights.docx (43.87 KB)