Post by brandon on Jun 12, 2018 5:37:53 GMT -6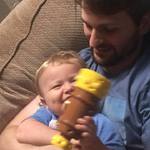 Strong's 522: I lift off, I take away, remove; pass: I am taken away, withdrawn [rapture???]
From Israel's rebirth to 5/22 is 3653 weeks.
Strong's 3653: An unripe fig [Israel is the unripe fig]
From Jerusalem returning to Israel (6/7/67) to 5/22/18 is 2658 weeks.
Strong's 2658: I come down, arrive at, reach [see 1 Thess. 4:16]
Gary, you gave me an interesting idea.  I checked the date ranges from May 15th 1948, which I noted previously maybe the first day of the "Fig Tree Generation's" start, until 40 days after 5/21/2018, which is June 30th 2018 and is currently of interest to me due to the information I mentioned in my above post.  The day count comes out to 25,613 days, which is exactly 3659 weeks.  Also interesting to me is that 3659 is a prime number.  Anyways, I tossed "3659 + Strong's" into Google and wondered what might show up. 
H3659 is found in 3 locations (Jeremiah 22:24, 22:28, 37:1).  I found the first occurrence and the two verses surrounding it interesting.  By the way, Coniah means "Jehovah will establish."
Jeremiah 22:23-25
23 O inhabitant of Lebanon, that makest thy nest in the cedars, how gracious shalt thou be
when pangs come upon thee, the pain as of a woman in travail!
24 As I live, saith the Lord, though Coniah the son of Jehoiakim king of Judah were the signet upon my right hand, yet would I pluck thee thence;
25 And I will give thee into the hand of them that seek thy life, and into the hand of them whose face thou fearest, even into the hand of Nebuchadrezzar king of Babylon, and
into the hand of the Chaldeans
.
Here we see an interesting reference to the "woman in labor" and also the Chaldeans, which I think I've previously showed in other passage references in this thread, seem to be the people connected with executing judgement on Israel, potentially at the timing of the Gog & Magog war.  I started stumbling into this looking through "day of darkness" symbolism stuff in Habakkuk, which for only a few chapter long seems PACKED with information about the tribulation period.  By the way, Jeremiah 37 is also about the Chaldeans burning the city, but lets move on.
G3659 is found in only one verse in the Bible, which is Mark 8:23.  The word "omma" translates to "an eye" or "eyes."
Mark 8:23
- And he took the
blind
man by the hand, and led him out of the town; and when he had spit on his eyes, and put his hands upon him, he asked him if he saw ought.
With that verse firmly in mind, here's a quote from my first post in this thread. Micah 5:3
- Therefore will he give them up,
until
the time that she which travaileth hath brought forth: then the remnant of his brethren shall return unto the children of Israel.
Romans 11:8
- According as it is written, God hath given them the spirit of slumber, eyes that they should not see, and ears that they should not hear; unto this day.
Romans 11:25
- For I would not, brethren, that ye should be ignorant of this mystery, lest ye should be wise in your own conceits; that blindness in part is happened to Israel,
until
the fulness of the Gentiles be come in.
Revelations 12: 1-2
- And there appeared a great wonder in heaven; a woman clothed with the sun, and the moon under her feet, and upon her head a crown of twelve stars: And she being with child cried, travailing in birth, and pained to be delivered.
Revelations 12:5
- And she brought forth a man child, who was to rule all nations with a rod of iron: and her child was caught up [HARPAZO] unto God, and to his throne.
Note: caught up in Revelations 12:5 is the word "harpazo", which is the word used to describe the rapture.
I wrote these down together to observe their potential connections. Hopefully the font coloring makes it through to the forum, when I paste this from a word document. Anyways, notice the following similarities.
• "give them up" / "give them the spirit of slumber"
• "eyes that they should not see" / "blindness in part is happened to Israel"
• "until the time that she which travaileth hath brought forth" / "until the fulness of the Gentiles be come in"
My focus of these versus was speculating that Israel's blindness is lifted and thus spirit of slumber removed, after the completion of Revelations 12:5.
Isn't it interesting that G3659 is about Jesus making the blind see and that there are exactly 3,659 weeks from May 15th 1948 to June 30th 2018?  Also fascinating is that Mark 8:22 gives the location of where the blind man was healed.  It was in
Bethsaida
, which translates to
"house of fish"
as we saw previously when looking at
G966
, which was the number of days from the 4th blood moon in the "tetrad of perfect symmetry" to Pentecost on May 21st, 2018.
Another interesting find is that there are two verses in the Bible that sum to 3659.  The first is Genesis 8:4.
Genesis 8:4
- And the ark rested in the seventh month, on the seventeenth day of the month, upon the mountains of Ararat.
I find that verse not only interesting due to the Noah's Ark reference, but also because of having previously looked at the value 2190's connection to another Noah's Ark verse.  Basically, 2190 goes to a verse lifting the Ark up and 3659 goes to a verse bringing the Ark back down. I think it's also worth noting that there are 10 Bible verses with phrases that sum to a text value of 2190. Chronologically, the first verse with this sum gives a tie in to the "as in the days of Noah."
Matthew 24:37
– But as the days of Noah were, so shall also the coming of the Son of man be.
… and that 1st 2190 valued verse is Genesis 7:18.
Genesis 7:18
– And the waters prevailed, and were increased greatly upon the earth; and the ark went upon the face of the waters.
Also worth mentioning is that the gematria value of 2190 was the value that connected John 21:11, which is about the 153 fish catch, to Romans 11:25, which is about Israel's blindness being UNTIL the fulness of the Gentiles, by their 17th words. Infact, one if those connected words is even another word for blindness! Hmmm... I wonder if that one (porosis) leads anywhere?
Edit
: Well, the Roman 11:25 word "porosis" (G4457) is one of the 17th words in those verses, with a 2190 gematria value.  If one looks at H4457
(a word meaning tongs)
, you'll find six Bible verses.  The last reference is Isaiah 6:6.  This chapter is where a seraphim touches Isaiah's lips, after he sees a vision of the Lord, sitting on his throne.  These verses caught my eye.
Isaiah 6:9-12
9 And he said, Go, and tell this people, Hear ye indeed, but understand not; and
see ye indeed, but perceive not
.
10 Make the heart of this people fat, and make their ears heavy, and
shut their eyes
;
lest they see with their eyes
, and hear with their ears, and understand with their heart, and convert, and be healed.
11 Then said I, Lord,
how long
? And he answered,
Until
the cities be wasted without inhabitant, and the houses without man, and the land be utterly desolate,
12
And the Lord have removed men far away
[rapture foreshadowing?], and there be a great forsaking in the midst of the land.
The word "until" always catches my attention.  In this case there's potential rapture parallelism
(below the surface of the context of the verses only)
with that time being when "the Lord have removed men far away."  I wonder if these verses in Isaiah foreshadowed the blindness that was to come in Romans 11:25?  Irregardless, there appears to be some sort of connection between H4457 & G4457 regarding the blindness of Israel.  Maybe such a connection is what's been scratched further up in this post, which could make the 3659 # of weeks from May 15th potential significant?  *shrugs... I don't know.  Time will tell.
Well, I'm out of time.  My daughter is waking up and it's her birthday today!  XD  She's now two.