Post by rt on Sept 5, 2017 16:40:09 GMT -6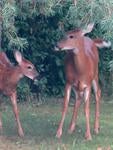 I forget, rt, what is your take on the 7 thunders? How might that play in this scenario? or not?
From the chapter titled, "The Mighty Angel," from the Massegee book, his take on the Seven Thunders is thus:
—"This Mighty Angel delivers a message from the seven thunders, but John is not allowed to write it down. 10: 3 "And cried with a loud voice, as when a lion roars. And when he cried out, seven thunders uttered their voices." (Revelation 10: 3) 10: 4 "Now when the seven thunders uttered their voices, I was about to write; but I heard a voice from heaven saying to me, seal up the things which the seven thunders uttered, and do not write them." (Revelation 10: 4) This Mighty Angel had such a booming, authoritative voice that it sounded like a lion roaring when he spoke. As this angel roared like a lion, seven thunders were heard. As John had his pen in hand preparing to write what the seven thunders said, God stopped him, and said, "Seal up the things which the seven thunders uttered, and do not write them." I am tempted to speculate as to whom these seven thunders are, and what they said, but when the Bible is silent on a matter, it is best that we be silent too. In Mark 3: 16-19, some of the Apostles were referred to as "sons of thunder." However, I do not think there is any connection here. Thunder is the sound that follows a flash of lightning, and is caused by a sudden expansion of the air in the path of the electrical discharge. While we may not understand the details, God is preparing to bring about all kinds of changes in weather patterns, lightning, thundering, cosmic phenomena, worldwide earthquakes, and hail stones weighing over 75 pounds. Since all 333 prophesies of the first coming of Christ were fulfilled literally, to be on the safe side, I am compelled to take these prophesies concerning the Second Coming literally. If one day I learn that some of these prophecies should be taken more symbolically, I believe they will be even more real, and spectacular, if that is possible. If God had wanted us to understand the seven thunders, He would have told John to write it down. Since God never says anything, unless it is important to someone, I believe God allowed John to hear what the seven thunders said in order to give him a better perspective as he wrote the Book of Revelation. However, God did not think we needed to know. So after telling John what the seven thunders said, God told him He didn't want anyone else to know."
MissusMack08,
When I have a chance I will answer your question in another thread, I don't want to distract from the topic of this thread so will start a new one on this topic when I have time.