Post by witness1 on Apr 12, 2018 4:53:06 GMT -6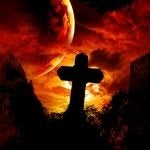 Edit: I have no idea how the quote got like that. I was trying to post my own comment and somehow it quoted it as Stephan. Sorry about that.
Someone asked whether hell and the lake of fire are 2 different places on the Behild Israel FB forum. Here are a few responses:
-Yes, hell is the temporary holding place until the 2nd resurrection when all the lost will be thrown into the lake of fire. The lake of fire is presently un occupied.
-Yes I guess you could kind of look at it like this when a person is sentenced to prison, he's held in County Jail until he is shipped to prison. So I guess you could say hell is like the county jail the Lake of Fire like prison, the final destination of your sentencing
-In the Bible the temporary place of the dead is known as Sheol/Hades (Prov. 9:18; Psalm 9:17; Luke 16:19-31). Currently it is where all unbelievers go at the time of death. Believers, however, though absent from the body, are immediately present with the Lord (2 Cor. 5:6-8; Luke 23:43). The lake of fire is eternal (Matt. 25:41). It is currently empty. The first two to be thrown into the lake of fire are the Antichrist and the False Prophet (Rev. 19:20). The next one to go will be Satan (Rev. 20:10). Finally, those who stand before the Great White Throne and whose names are not found in the book of life are thrown into the lake of fire (Rev. 20:11-15).
-Here's an excellent teaching on it:
I haven't looked up any of these verses or watched the video... just copy and paste for anyone interested.
Edit: Here is the verse in Matthew, which Jesus says after He has come back and separated the sheep (on His right) from the goats (on His left): "Then he will say to those on his left, 'Depart from me, you cursed, into the eternal fire prepared for the devil and his angels." Matt 25:41
The word eternal is one SK brought up:
166. aiónios: agelong, eternal
definition: age-long, and therefore: practically eternal, unending; partaking of the character of that which lasts for an age, as contrasted with that which is brief and fleeting.
The word fire:
4442 pur: fire
Definition: fire; the heat of the sun, lightning; fig: strife, trials; the eternal fire.
There is too much on the fire for me to study right now, but it looks like it will be interesting.