Post by davewatchman on Jan 5, 2019 13:50:08 GMT -6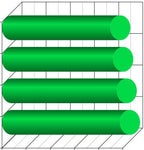 Does anyone know how he arrives at 1/21/2019 being the end of the Metonic cycle?
I still haven't figured out the Metonic cycle.
Or how it would apply to our endeavor here.
But i wanted to take a stab at explaining why a 19 year cycle is not working exactly for what i am trying to do.
I am using this big PDF list of solar and lunar eclipses that i can slide around on the screen. It's a 775 KB file made back in the day by Luis Vega. I don't know if it's too big to attach, or if it would be of any use to anyone. I don't think it's on Luis's site anymore, it's an older one.
But anyway, with it, i can see the tetrads back in 1492, when Columbus sailed the ocean blue, i can recognize them for what I am looking for. I'll show how in a minute. Then i can easily use the little hand grabber tool to slide the PDF forward in time while counting the 19 year Metonic cycle. When more tetrads come along, they don't repeat EXACTLY as they did in 1492. The 1492 ones are more like the 2014 ones. They have a TOTAL solar eclipse prior to the third moon of the tetrad. But the 1492 ones are not exactly the same, the solar events with them are different than our recent tetrads.
Look at these three screenshots as examples. In each of the cases, have an eyeball on the third moon of the tetrad. Look for a TOTAL solar eclipse prior to the lunar eclipse. That's what I look for because it gives me the 1372 number that matches the Daniel 12 prophetic time periods. But just notice for now that every 19 years the eclipses don't seem to repeat exactly as they have during the previous 19 year cycle.
The icons with the big black dots are the annular eclipses.
You can pretty much just start at the top one, scroll down while looking at the solar icons within the terads. The tetrads are there but the solar eclipses change. And that's not even getting started on them falling on the feast days, or in the vicinity of the Revelation 12 sign.
What i look for is the sun to be turned into complete DARKNESS, moon into blood.
And then a sun that is merely "darkened", followed by a blood moon.
Before, and after. Like bookends.
But they need to frame in 1335.
The closest that i have found are these:
(O)14(o) <------------1588------------> (O)14(o)
(O)14(o) <----------1550----------> (O)14(o)
(O)14(o) <---------1372---------> (O)14(o)
(O)14(o) <--------1209--------> (O)14(o)
(O)14(o) <------1195------> (O)14(o)
1372 was my closest winner when i divide it with the Daniel 12 numbers:
<----1260---->
<-----1290-----> 0.976744186046512
<------1335------> 0.966292134831461
<-------1372-------> 0.973032069970845
And that ought to be about enough to give me a headache,
On a Peaceful Sabbath.