Post by davewatchman on Dec 19, 2018 17:20:37 GMT -6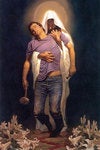 "…Maybe there's even some time for a new cat and a mail order bride…"
Oh, My -- I read this and broke out laughing out loud!!!!
a mail order bride? seriously? -- A new roof - did not surprise -- a new vehicle did not surprise -- even a new pet did not surprise .......
but a mail order bride… was very surprising!
Sorry, I found that quite amusing (and if you were being serious -- sorry -- but I still think it is a funny statement)
No need to be sorry. I'm glad that it made you laugh. Gladness of heart, is the life of man. It would be REALLY funny if the world doesn't end and i DID get a mail order bride. The way my luck goes, she'd probably get herself lawyered up and take me for all i've got.
The end of these wonders can be a serious and at times stressful subject to contemplate. A bit of humor might defuse some of that.
It's just a matter of time. We're going to get there one way or another. Everyday brings us one day closer. It's inevitable, time's going to be up one of these days.
And i'm still stuck on the OP. I still lean towards it being one of the major signs. Most people have probably let it slip away. But i can't let it go for some reason.
John Chau's friend from high school did an interview and said John was obsessed with going to Sentinel Island all the way back in high school. When i was in high school that would be the LAST thing that i would think to do. But to get that idea in high school, and then to continue with it year after year after many a long year, and never give up on it or change his mind.
John Chau's boss said the same thing. She said that every decision he made for the past 7 or 8 years was made to prepare for Sentinel Island. She also surprised me when she said that the travel ban had been lifted on North Sentinel Island. I didn't hear that before.
And while i was looking for the most accurate dates for when John was at that Island, i found this God Reports Blog which had many of the best collections from John's journal.
I find it very spooky reading John's notes.
His prayers to the Lord:
"Lord…if you want me to get actually shot or even killed with an arrow, then so be it. I think I could be more useful alive though, but to you, God, I give all the glory of whatever happens. I DON'T WANT to DIE! Would it be wiser to leave and let someone else continue? No. I don't think so – I'm stuck here anyway without a passport and have been off the grid. I still could make it back to the US somehow as it almost seems like certain death to stay here. Yet there is evidenced change in just two encounters in a single day. Will try again tomorrow."
And this vision:
"In his journal, Chau recounted a vision he received from God the previous evening. "Last night, I had what I'd call a vision as I've never had one before – my eyes were shut but I wasn't asleep and I saw a purple hue over an island-like city as a meteorite or star fell to it and it was a frightening city with jagged spires and I felt distressed. Then a different light, a whitish light filled it and all the frightening bits melted away."
blog.godreports.com/2018/11/slain-missionary-john-chau-quarantined-himself-took-immunizations-to-avoid-harming-tribe-battled-with-his-emotions/
For some reason, i still can't stop thinking about this one.
And then shall the end come.