Post by Natalie on Oct 16, 2019 7:58:27 GMT -6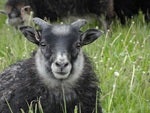 Iran's ancient name is Persia. It's listed there in Ezekiel 38. Think back to the story of Esther....that was Persia. It's only in relatively recent history that the name has become Iran. (1935)

Instead of retyping it all, here's what I wrote on another thread about the players in Ezk 38
I have a book Tower of Babel by Bodie Hodge (works at Answers in Genesis). It traces where people went after the Tower of Babel. He starts with Josephus and works on from there. Josephus says that Tubal gave rise to what the Greeks called the Iberians. He (the author) has Tubal as being the people that eventually settles in Siberia (place names there include Tobolsk and Tobol River) The Iberian people also settled the Iberian Peninsula (Spain).

Meshech settled in the area between the Black Sea and the Caspian Sea. Then they went farther north to the Moscow Region. There are places there called Meshera Lowland and the Meshera National Park. The old name of Moscow was Meshech or Meshera and various forms of these names are present in this area (Moksha, Moscha, Moche, etc)

The Magog group had a larger range and mixed with many people. The dominant group were the Scythians, covering large portions of present day Russia and the Ukraine.
The book also has Togarmah as being the Turks. (Beth-Togarmah meaning house of Togarmah) Togarmah was a son of Gomer.

Interestingly, some of the Turks once controlled parts of Siberia and places near the Artic Ocean. That might make "from the uttermost parst of the north" Ezekiel 38:6 make more sense.

ETA: for anyone reading along, the original names come from Genesis 10 and the descendants of Noah. 10:2-3 mention Gomer, Magog, Tubal, Meshech, and Togarmah a son of Gomer. They are all from Noah's son Japheth.