Post by uscgvet on Feb 7, 2019 18:54:46 GMT -6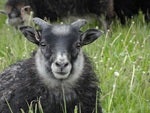 what is a sheep? A sheep is a herd animal, and unlike any of the other domestic herd animals such as cattle and goats. They seek comfort in numbers and do not do well when singled out on their own. The BIG aspect of a sheep is their desire to FOLLOW for safety and sustenance. He was coming for those LOST, BLINDED, misled, faithless sheep whom He had demonstrated for 4000 years what it was to FOLLOW Him or not. Of course the gentile was a term to apply to a human who was not of this line of people whom were entrusted with the Law. Yes, Jesus had to be born, WALK, die and Rise according to God's established LAW shown thru a group of poeple. But FAITH is the core meaning of this event, not refusal or denial by the Lord to even care for one of his created souls. There are plenty of non-jew persons in the OT that were counted as righteous for their faith. First one I can think of is the story of the scarlet threads that were place outside the window so that those within the household would be spared for that woman and her family. I cannot recall her name. But, she was not a jew. She knew of or HEARD the power of "their" God and seeked the same protection.
Ahh... No... Gentiles were, prior to Acts 10, considered unclean, thus, ungodly, or "little dogs" as Jesus puts it. Ezekiel 36:24-27 spells this out.....
And just a few chapters before Matt 15 we read:
Matthew 10:
5
These twelve
Jesus sent forth,
and commanded them
, saying, Go
not
into the way of the Gentiles, and into any city of the Samaritans enter ye
not
:
6 But go rather to the lost sheep of the house of Israel.
Jesus was sent to the Jews... Jesus commanded his apostles to also only go to the Jews... NOT the Gentiles, during his earthly ministry.
Even in Acts, after the stoning of Stephen:
Acts 11:19 Now they which were scattered abroad upon the persecution that arose about Stephen travelled as far as Phenice, and Cyprus, and Antioch, preaching the word to none but unto the Jews only.
If apostles went to the gentiles, they would have been in direct violation to the King of King's ORDERS to avoid the unclean gentiles.
Peter was the first to go to gentiles in Acts 10 because God Himself intervened and "cleaned" the unclean gentiles. That was what Peter's dream/vision from God was all about.
And Rahab the harlot became an Israelite because Jesus is a direct descendant from her through her son Boaz (the kinsman-redeemer).